Are you tired of dealing with mountains of paperwork every month? Are you looking for a way to make your bookkeeping process more efficient and streamlined? If so, then you should consider transitioning to a paperless bookkeeping system. Let's talk about the benefits of going paperless and offer some tips on how to make the transition.
What Is Paperless Bookkeeping?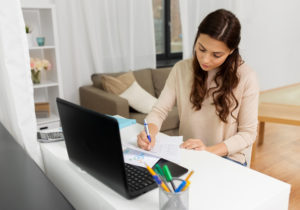 Paperless bookkeeping is the process of tracking and managing your finances electronically. This means using software to track your income and expenses, create invoices, and generate reports. Paperless bookkeeping can save you time and money by eliminating the need to print out documents and file them away.
What Are The Advantages Of Switching To Paperless Bookkeeping?
There are several advantages of switching to paperless bookkeeping, including:
Improved accuracy: When you enter data into a software program, there is less room for error than when you are dealing with paper documents.

Reduced clutter: Paperless bookkeeping can help you reduce the physical clutter in your office or home.

Increased efficiency: Software programs can automate many of the tasks associated with bookkeeping, such as generating reports or sending invoices. This can save you a significant amount of time each month.

Environmentally friendly: Paperless bookkeeping is more environmentally friendly than traditional paper-based methods since it doesn't require the use of paper or ink.
How To Transition To Paperless Bookkeeping
If you're ready to ditch the paper and transition to paperless bookkeeping, here are a few tips to help you get started:
Choose the right software: Not all bookkeeping software programs are created equal. Do some research to find a program that meets your specific needs.

Set up a system: Once you have chosen your software, take some time to set up a system that works for you. This may include creating folders for different types of documents or setting up automatic backups.

Train yourself and your staff: If you're not familiar with using bookkeeping software, it's important to take the time to learn how it works. You may also want to train your staff on how to use the program so that they can help with the transition.
As you can see, paperless bookkeeping can offer many benefits, from increased accuracy to reduced clutter. If you need help making the switch, reach out to our experienced bookkeepers at Silver Peak Accounting in London, Ontario.